Second running of Nitro Up North a massive success for Darwin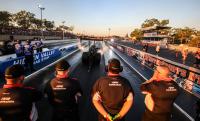 Nitro Up North has rocked the Top End to its core for a second time, with astonishing performances, big spectator numbers and an outstanding response from competitors. In front of thousands of Territorians and interstate spectators, Gary Phillips won in Top Doorslammer while Damian Muscat scored [ ... ]
Read more...
Now is the time to enter for Track Championship Round Three

Well Nitro Up North is done and dusted for another year and what a show it was. We're sure you will all agree that the performances across the board were amazing and that we have all raised the bar higher for drag racing in Darwin. Congratulations to everyone! But of course we want to continue th [ ... ]
Read more...
Seriously cheap Nitro Up North merch available!

If you missed out on getting some of the awesome merchandise that was on sale at the recent Nitro Up North event, don't worry! You can still pick from our awesome range at run out prices. For more information or to order any of these items, please email This email address is being protected from spa [ ... ]
Read more...
Phillips and Muscat taste victory in the north

Gary Philips and Damien Muscat have each overcome some tricky runs to take the Nitro Up North Top Doorslammer and Top Fuel Motorcycle event victories this weekend. For Phillips, it was a slippery run to the event win, but he held on to take the victory from Mark Belleri with a 5.949s/245.36mph ef [ ... ]
Read more...