Partners lining up for 2016 burnouts!

The Trafficwerx Colosseum will come alive to tyre-busting burnouts this season at Hidden Valley Drag Strip with partners coming on board to support the five rounds of the championship. Round one will be presented by White Bins Waste Removal, while the big round three at the NT Titles will be pre [ ... ]
Read more...
Autosmart makes smart choice with Junior Dragsters

The future of drag racing in Darwin is in good hands with Autosmart NT coming on board to sponsor the Junior Dragster bracket. Junior Dragsters are miniature versions of the nitro-breathing rocketships of Top Fuel, using single cylinder motors and open to kids from eight to 16 years old. But don' [ ... ]
Read more...
Registration now open for first events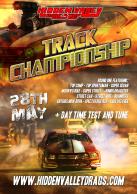 Registrations have opened for the first test and tune on 28 May as well as the opening Track Championship round of the season on the same day. This double header will kick off a massive season at Hidden Valley Drag Strip where we have crammed in a bunch of events for you to enjoy. Registrations are [ ... ]
Read more...
Lamattina Top Fuel to race in Darwin

  One of Australia's most iconic motorsport teams will make a return to the sport of drag racing, with the LTFR team confirmed to compete at the Hidden Valley Drag Strip with long-time tuner, Aaron Hambridge doing the driving.   Hambridge will be piloting one of the team's championship wi [ ... ]
Read more...