Competition Bulletin - May 2016
Hello Hidden Valley Drag Racing Association Members! The new season is almost upon us so we want to bring you up to date with what is happening behind the scenes and some of the exciting developments for the season ahead.
In this bulletin:

Four Top Fuel teams confirmed for Nitro Up North
Alltools NT sponsors lane two
Trafficwerx rocks the Colosseum
How to withdraw from an event
Changes made to track championship brackets
We need you - volunteer now!
Join the HVDRA committee
Thanks to our awesome sponsors
---
Four Top Fuel teams confirmed for Nitro Up North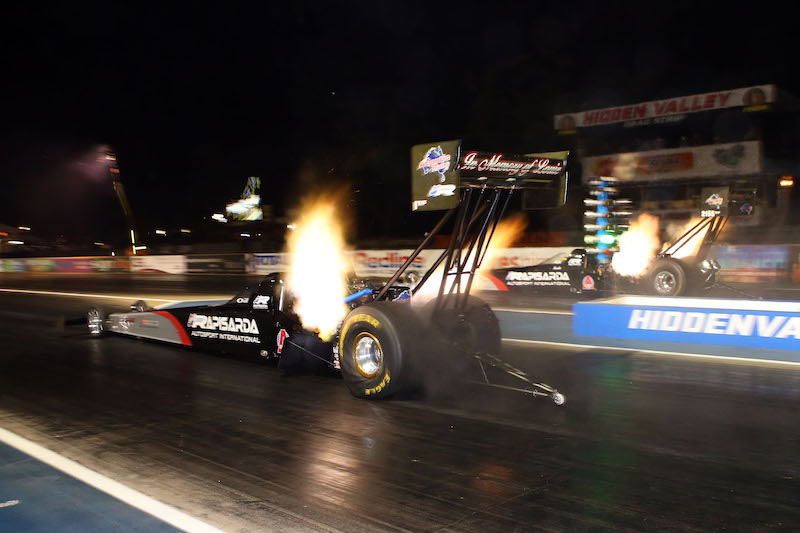 The action packed event Nitro Up North returns to the top end to rumble the valley with Top Fuel dragsters, Top Doorslammers and Top Fuel Motorcycles plus the first ever running of the Summit Sportsman Series in Darwin on July 8 and 9, 2016.
2016 ANDRA Top Fuel championship winners Rapisarda Autosport International will be returning to Hidden Valley alongside Mark Sheehan's Nitro Madman dragster - these are the two quickest teams in Australia and they are looking forward to smashing the track records with their nitro-fuelled race cars!
Top Fuel dragsters are the world's fastest accelerating vehicles, with over 10,000 horsepower on demand from their eight litre, V8 engines. With over 5G of acceleration these land locked missiles will be aiming to cover the quarter mile in just 4.5 seconds at well over 500kmh. Come to Hidden Valley on July 8 and 9 and feel the thunder in person - these cars literally shake the ground when they launch!
The heroes of Top Doorslammer will be back on track, including nine times ANDRA champion John Zappia who will look to kick off an unprecedented 10th championship chase in the top end.
And the nitro doesn't stop with Top Fuel cars either, as Top Fuel Motorcycles will also converge on Hidden Valley to commence their national series - nitro Harleys are the wildest thing on two wheels!
Nitro Up North will also include the first running of the Summit Sportsman Series in the top end, attracting the best sportsman teams from around the country to compete for an ANDRA Christmas tree trophy. What does that mean for you as a spectator? Nitro Up North is going to be one of the GREATEST drag racing events ever seen in Australia - let alone Darwin!
---

ALLTOOLS NT have been a long time supporter of Hidden Valley Drag Strip and we are proud to announce that not only are they a major GOLD sponsor, but their name will also be up in lights in lane two on our magnificent timing boards. 
Please support our track sponsors by shopping local and show them your appreciation because without their help, we wouldn't have the ability to run our awesome shows!
---
Trafficwerx rocks the Colosseum

We probably won't need any stop signs in the Colosseum but we are thrilled that Trafficwerx NT have come on board as a GOLD sponsor and naming rights sponsor of the tyre frying, limiter bashing burnout pad!
They will also be providing temporary signage at our major events.
Again, we are grateful to Trafficwerx NT for their valued support and look forward to a tyre shredding season. Let there be smoke!
---
Below is the refund policy that HVDRA are adopting this season, you can also find it on the Hidden Valley Drag Strip website under the 'Event' heading for Off Street, Season Test and Tune and the Track Championship Series:
To obtain a refund on competitor entry you MUST inform HVDRA in writing, at This email address is being protected from spambots. You need JavaScript enabled to view it., no later than 2pm the day prior to commencement of the event. If there are extenuating circumstances surrounding your withdrawal and you are not able to inform HVDRA by 2pm the day prior to racing you may submit a refund request in writing to the Hidden Valley President for consideration.
---
Changes made to track championship brackets
After consultation with competitors surrounding bracket changes, a positive outcome was confirmed to make our local drag racing more competitive. Bracket changes are as follows:
Street 13.00 or slower
Super Street 11.00 - 12.99 
Super Sedan (including Modified) 10.99 or faster 
Top Sportsman 8.49 – 7.50 
Top Comp 7.49 or Faster 
Street Bike 10.00 or slower 
Modified Bike 9.99 or faster
---
As the size of our events continue to grow and the number of competitors increases, so too does the need for volunteer officials. Here at Hidden Valley Drag Strip we are all unpaid volunteers that just love to host a great event. To keep up with demands we need more people to help lend a hand. Do you have a partner, teenage children or just some mates that would like to help? Get in contact with us via phone or email as we are bound to have something to do before, during or after events.
---
Thanks to our awesome sponsors!
With the 2016 season almost underway, HVDRA would like to extend our appreciation to all our current and new sponsors for 2016. Without help from local businesses drag racing at Hidden Valley wouldn't be possible:
Alltools NT
Go Hire
Hot 100
Trafficwerx
A&M Cranes
Redline Plumbing
Coates Hire
Channel Nine
Shannons Insurance
Motorsports NT
Roy Stanton Painting
Sign City
Rusca Bros
Total Weld

Reinke Transport
Atom Supply
Northern Heavy Haulage
Sam Eyles Refridgeration
JEC Transport
Territory Technology Solutions
C&R Construction
Rhinos Diesel
GNR Diesel
Thinkwater
Middys
NT Energy
Rhinos Diesel
GNR Diesel
Thinkwater
Middys
NT Energy
AML Equipment
Autosmart NT
Zip Print
Loft Golf Carts
Custom Works 
Connected Office
Top End Access
Uniglide
Hidden Valley Tavern
RGM
Got any queries about racing, spectating or getting involved with Hidden Valley Drag Strip? Please feel free to contact us.
Hidden Valley Drag Racing Association
Hidden Valley Rd, Berrimah, NT
GPO Box 3726, Darwin NT 0801
Ph (08) 89471320
This email address is being protected from spambots. You need JavaScript enabled to view it.
www.hiddenvalleydrags.com