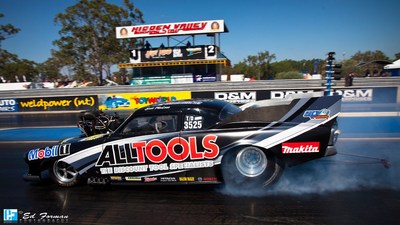 The first night of the 2012 NT Quarter Mile Titles will go down in history as seeing the quickest Doorslammer pass at Hidden Valley Drag Strip.
Scott MacLean smashed the current record with a 5.886 pass at 243.33mph (391km/hr)
"It was fantastic, it just felt so right" beamed MacLean. "I'm pumped that I could finally get my 5 second pass here at my home track."
"I'd just like to thank all my sponsors that have been there for me, AllTools, Ausblock,  EC Lubes, Mobil 1 and Signcity."
MacLean unfortunately damaged the motor in the process but has promised to be back tomorrow for racing.
The previous quickest pass was set in May 2011 by John Zappia.
Pro Series Bike rider Scott White also pulled a 7.642sec at 175.5mph to reset the track record for Pro Bike. He says there is even more potential tomorrow night where he is hoping to drop into the low 7's.
The D&M Colosseum saw some punishment with the exhibition burnouts of Mick Brasher and Ben Simpson. Brasher's fast entries onto the burnout pad were a feature of the night and he's all set to take to the Colosseum again tomorrow.
The D&M Enterprises Burnout Competition supported by Phil Kerr Service Centre was hotly contented and saw Chris Herridge take out the win in his V8 powered Holden Gemini, defeating rival Andrew Hall in a Mazda RX7. Ben Carter and Adam Berry tied for third place.
Day two will see gates open at 2:30pm with qualifying from 3:30pm before feature racing commences at 6:00pm.