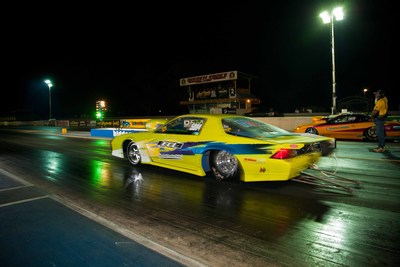 The 2012 NT Quarter Mile Titles Presented by 7mate was one of the most action packed events in recent years with records broken, personal bests and an amazing array of entertainment both on and off track.
After Friday night's 5.88 second pass by Scott MacLean in the AllTools Top Doorslammer, and a 7.642 for Scott White on the AMPAC Suzuki Pro Bike Hidden Valley Drag Strip was again buzzing on Saturday afternoon as 90 teams set about preparations for day two of the 2012 NT Quarter Mile Titles Presented by 7mate
The final qualifying session saw South Australian Steve Norman top qualify with a 7.186 at 194mph in the Outlaw bracket. It was enough to set the fastest naturally aspirated pass at Hidden Valley and he was on a high as he went into the nights racing.
Norman was not to be disappointed, making it through to the finals against Territory local Dieter Herrmann. Unfortunately Norman's final run of the night came unstuck, handing the win to Herrmann who finished with a near unbeatable 8.010 second pass on an 8.00 dialin.
"Hidden Valley is a fantastic venue and you have one of the best tracks in Australia" said Norman at the presentation ceremony. He vowed to be back again in 2013.
Super Sedan saw an upset with current point's leader Grant Rowe not making it through to the finals. Long-time rivals of over 20 years, Steve Schruers and Dwight Brieffies instead stood on the podium. Schruers was too good this time around, running a more consistent 9.329 second pass on a 9.27 dial in.
Modified Bike saw Geoff Hawkins take on Dale Smith. Hawkins red lit, handing an easy win to Smith who finished with a 10.655 @ 128mph.
Super Street was a similar fate with Troy McGregor fouling by only 0.01 seconds. It was still enough to give the win away to Shaun Boyer who ran an impressive 11.787 on an 11.76 dialin.
In other brackets, Street Car saw Tony List in the HSV GTS dominate young Harley Gray. List pulled a 13.72 on a 13.60 dialin to beat Gray with an 18.876 on an 18.60 dialin.
A close race was had between Darren Savage and Mark Tattingham in Street Bike. Tattingham had a holeshot win after a solid 0.044 reaction gave him an advantage over Savage and he capitalised with the win, running 10.853 to Savage's 12.484.
Junior Dragsters was another upset with rookie Mitchell Sperrer making it to the finals in his debut event. Also in her rookie year, Darcy Muller was just too good for Sperrer. With both competitors backing off early to ensure they stayed within their class limits Darcy took out the win with a 13.574 second pass over the 1/8th mile against Sperrer with a 13.991.
The exhibition attractions added the all-important icing to the event with the Aussie Bandit wheel stander of Nigel Benson igniting the track as he finished the night with a two wheeled pass in only 11.208 seconds.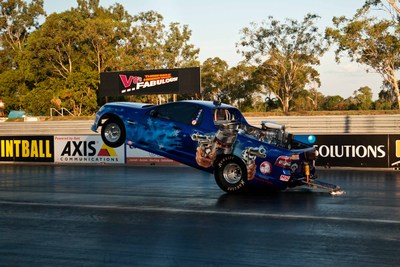 Benson was not the only one with some ignition on the weekend, Summernats 23 Burnout Champion Mick Brasher also had a fiery finish after seizing the rotors in his supercharger.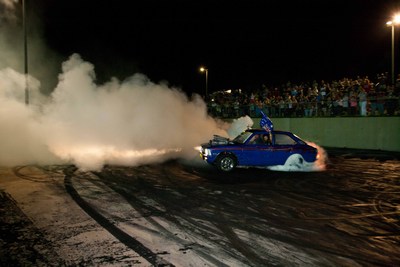 After a shaky start Scott MacLean and Matt Abel were able to put their seal on the weekend with a good side by side pass, 6.295 @ 241mph to 6.876 @ 226mph to round out the event.
The next round of the Hidden Valley Drag Strip Track Championship Series gets under way on Saturday 4 August while Off Street racing returns Friday 27 July.