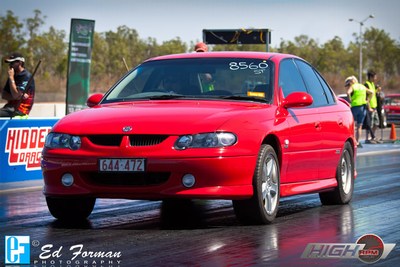 It's going to be a hot couple of weeks in the lead up to Slamfest 2012 at Hidden Valley Drag Strip as teams use the next two weeks as a testing opportunity before the big event.
This Friday night sees the return of Beat the Heat Off Street Racing with the Hogs Breath Café John Sorensen Memorial. Street cars and bikes can take to the strip and race their mates or take on the Beat the Heat team.
Featuring the Hogs Breath Mini Eliminator as well as the Perfect Reaction Challenge, it will come down to driver skill rather than outright horsepower. If competitors have lightning fast reactions, or they know exactly what their car will run they are in with a chance to take out one of the many prizes on offer.
Rumour has it Matt Abel may also be testing a new combination in his Top Doorslammer if he gets it together in time. After seeing fellow team mate Scott MacLean run his first ever 5 second pass at the NT Quarter Mile Tiles, Abel has a renewed hunger to better MacLean's record.
The fourth round of the Track Championship Series then gets underway on Saturday 4th August.  Marking the second half of the Track Championship season, teams will now be looking to the series point score and reassessing their strategies.
One such racer is Dieter Herrmann. With a commanding 70 point lead after winning all three rounds this season he only needs one more win to secure the series.
Gates open at 6pm this Friday night for the Hogs Breath Café John Sorensen Memorial. Spectators are only $10 and children under 13 are free.